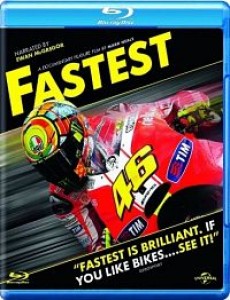 Info:
http://www.imdb.com/title/tt1721677/
Release Date:
4 April 2012
Genre:
Documentary | Sport
Stars:
Jorgë Lorenzo, Ewan McGregor and Valentino Rossi
Quality:
BluRay 720p
Source:
720p BluRay x264-aAF
Release Info:
NFO
Subtitle:
Indonesia
Sinopsis:
Shot around the world in 2010 and 2011 and narrated by Ewan McGregor, 'Fastest' captures the intense and thrilling reality of the MotoGP World Championship, documenting a pivotal moment in the sport. With Valentino Rossi chasing his tenth World Championship title the Italian ran into one of the toughest challenges of his career: a crop of exceptionally fast young competitors, a horrific leg break at his home race, and an amazing comeback little over 40 days later. Confronting such a monumental task and with rival Jorge Lorenzo taking the 2010 title, Rossi faced up to one of the most testing year's in his illustrious career and along with his fellow competitors was left asking: Who is the fastest rider now?
Watch Trailer

DOWNLOAD Fastest MotoGP bluray 720p - HanzZame (800 mb)
untuk download subtitle indonesia nya ada di atas link nya.